Brittlebush: A Desert Dwelling by Simon De Aguero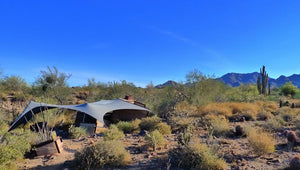 Positioned under the crown of a hill in the McDowell Mountains of Scottsdale, Arizona, is the Frank Lloyd Wright School of Architecture at Taliesin West, Wright's old winter residence. For more on Frank Lloyd Wright and Taliesin West, check out our article titled "The Shining Brow of the West" from June. 
For one graduate student, Simon De Aguero, the desert became a foundation upon which to implement his design-build project, Brittlebush. It is a small desert dwelling designed for outdoor winter living, providing protection from the surroundings with a small rammed-earth perimeter wall, and shelter from the sun with a shade fabric canopy above. Most of the building materials were salvaged from the school scrapyard and the earth around it in a display of sustainability. Tenshon produced the 150 square foot shade membrane that provides cool shade in the day and additional protection from the elements at night.
For cooler nights, there is a small fireplace intelligently placed beneath the bed for a bit of extra warmth (shown above). A smoke stack out the back prevents any smoke from being trapped beneath the fabric. There are a number of small chairs and a zen garden for social afternoons as well as alone time. The poles used to pitch the canopy upwards are topped with orbs that are connected to a light source, producing a comforting glowing in the evenings when desired (shown below).
Brittlebush was one very unique application for our custom shade membranes, and we were happy to be involved in the project with Simon De Aguero. At Tenshon, we encourage creativity and innovation like this. We provide a scholarship opportunity for those who are pursuing higher education and are interested in architecture, design, and/or engineering. Follow the link above to find out how you can be awarded $1500 toward your education for your creative mind!
Leave a comment
Comments will be approved before showing up.