EVO Swim School Shade Sails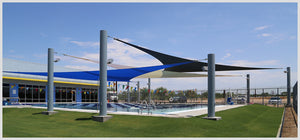 EVO Swim School in Gilbert, AZ has attempted to revolutionize learning to swim. From lessons for first time swimmers to pre-competitive training, EVO has lessons for swimmers of all skill-levels and ages. The Otter class specializes in helping young children who are not yet independent in the water to be able to gain the skills necessary to be confident and safe in the water as they grow up. Subsequent classes teach kids how to swim for fun and fitness. Higher-level training prepares competitive swimmers to refine their skills and qualify for college scholarships and other competitive arenas. According to their website, EVO's "…ultimate goal would be to have the pleasure of teaching your child how to swim for safety first, then for backyard fun, then for fitness, and finally for competition."
The EVO facility is designed to optimize the experience of the swimmers as well as parents. There are two pools, one of which is inside an air-conditioned building. This offers year-round comfort for the younger swimmers, as well as a haven for the parents who have come to observe. They can stay cool and connect to the free wi-fi to even get a little work done while they watch their children and wait. On top of that, there is even a play area to entertain the siblings of the swimmers. Outside is the competitive pool, with 8 25-yard lanes stretching from one end to the other. It is just outside the building, so parents can watch one sibling learn to swim while the other participates in their swim team.
Covering the large expanse of the competitive pool are three behemoth Tenshon shade sails. They were custom designed specifically for this setting as a result of collaboration between EVO and a Tenshon project manager. These shade sails cover 80% of the pool and provide much welcomed shade in the heat of the Arizona summer. Due to the breathability of the HDPE fabric weaves of the sails, hot air is free to rise through them and does not become trapped beneath. This raises the ambient temperature beneath the sails considerably, around 15 degrees. The high-density polyethylene fabric is strong and stays tight under the tension of the commercial brackets used to attach the sails. EVO Swim School's shade sails are durable and long-lasting, just like their big picture perception of learning to swim.
Credits:
Leave a comment
Comments will be approved before showing up.