The "Shining Brow" of the West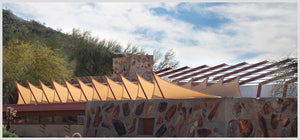 Those who have a familiarity with architecture recognize Frank Lloyd Wright as one of the most well-known and talented architects in America. Of his 1,114 unique designs, 532 of them have been actualized. Aside from a handful of buildings in Japan, Wright focused mainly on the United States, where he called home. Born in 1867 in Richland Center, Wisconsin, Wright became interested in design and architecture from an early age. While his contemporaries were still entrenched in building (and dressing) after European styles, his great desire was to introduce a purely American architecture that embodied the culture of the land he loved. When he grew up, Wright designed and oversaw the building of his own home in Spring Green, which he called Taliesin. In later years, he designed a winter home for himself in the foothills of the McDowell Mountains in Scottsdale, Arizona. This he named Taliesin West, in congruency with his summer and primary home in Wisconsin.
Frank Lloyd Wright borrowed the name Taliesin from the Welsh. It means "shining brow", a name appropriate for his two homes positioned just under the crowns of hills. Since his death in 1959, Taliesin West has become a historical landmark and the home of the Frank Lloyd Wright Foundation and Frank Lloyd Wright School of Architecture. It is a signature of his ability to reflect the ambient landscape in his architecture. The building lies relatively low and wide, matching the sprawling Sonoran Desert around it. Many of its walls are made of thick cement encasing white, brown, and red stones from the surrounding desert hills. Inside, the walls and ceiling slant in unique ways, and a hexagonal theatre provides incredible sound even for those in the back of the room. Back outside, red wood and iron trusses compliment white rooftops.
Above the entrance to the Taliesin West library stands a row of eleven rectangular shade sails. The khaki fabric blends into the southwestern landscape and flatters the sedona red iron. The shades are contorted in a hyperbolic twist that is both artistic and practical. The twist, with the four corners alternating between high and low points, prevents sagging in the sail and the pooling of water. This echelon of identical sails greets those entering the library with shade from the Arizona sun.
Frank Lloyd Wright's legacy has been sustained by the foundation and school that now call his home theirs. They offer tours of Taliesin West as well as education in the School of Architecture. Long has this grand structure stood as a testament of Wright's gifted mind and eye for design. The recent addition of shade sails only adds to the modern, yet enduring style of his winter home. Though Frank Lloyd Wright himself passed away over half a century ago, his ideas have been immortalized in the building of Taliesin West.
Sources:
Leave a comment
Comments will be approved before showing up.